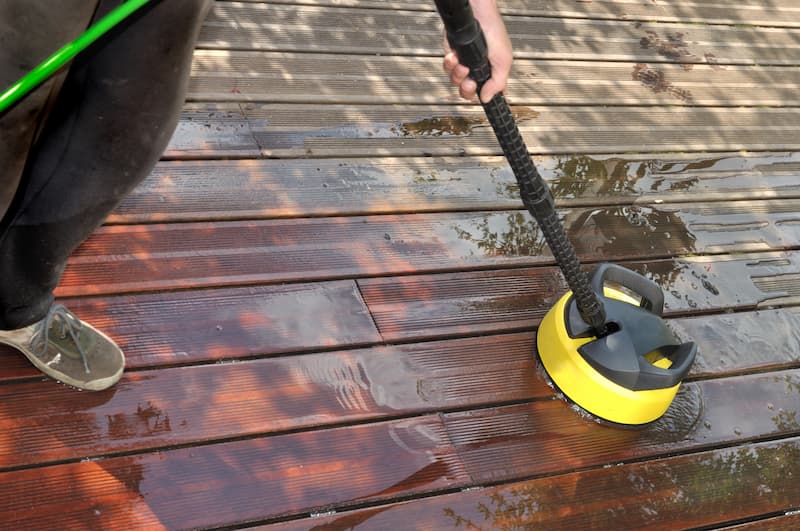 It's Corsicana's Top Dog again, with another great Top Dog Pressure Washing LLC tip for keeping your exterior surfaces looking fresh. A client in Hillsboro asked us the other day if we could pressure wash their roof for them. I said, "No." An awkward silence followed, but then I explained.
For tough surfaces like concrete driveways and sidewalks, high-pressure washing blasts away invasive organisms, ground-in dirt, and unsightly stains using the powerful force of water. We use top-of-the-line professional-grade equipment with adjustable pressure settings to ensure that your surfaces are cleaned safely and effectively. But there are some surfaces around your property - like roofing shingles, vinyl siding, and wood fences - that can't withstand all of that pressure.
Does that mean we can't clean those surfaces? Of course not! It just means we have to take a different approach.
That's where soft washing comes in. Soft washing uses a highly concentrated environmentally-friendly cleaning solution to saturate tough contaminants at the root. Debris is then gently rinsed away with a fresh stream of clear water. There are several soft washing services that we offer at Top Dog - from roof cleaning to house washing to fence washing - that can give your outdoor spaces an over-the-top freshness. I'll explore a few of them with you …
Ask A Top Dog What's Over Their Head - Roof!
Yeah, that's one of my favorite jokes, but keeping your roof looking great with our roof cleaning services is a serious business for the pros at Top Dog. We remove algae, moss, lichen, and other organic invaders from asphalt and architectural shingles, clay tile, metal, slate, cedar shake, and other roofing surfaces to give your Red Oak ranch, your Greek revival in Athens, or your Ennis estate a freshness that tops off your property nicely.
Don't Fence Me In - Unless You Clean It First!
Soft washing is the preferred method for reversing the effects of UV light and weathering from your pressure-treated or natural wood fence to reveal the true beauty of your fence's materials. Now, most dogs don't like to be fenced in, but when you call in the fence cleaning experts at Top Dog, your fence will have a tail-wagging freshness that's hard to top.
Dogs On Vinyl - Who Let The Dogs Out?
Your home's exterior surfaces - vinyl siding, stucco, brick - are at the mercy of our Texas elements. Organic invaders, grimy pollutants, and other contaminants accumulate on your vertical surfaces and can make your home look dogged and drab. When you let the dogs out to clean your exterior surfaces using soft washing, you'll be amazed by the difference in your home's curb appeal.
Doggone Good Soft Washing
The list of outdoor spaces we can clean using our soft washing application is pretty doggone long, but here are a few of the other outdoor surfaces we clean for clients at Top Dog:
Patio furniture
Screened enclosures
Playground equipment
Decks and gazebos
Outbuildings
Windows
Give us a call at Top Dog at 903-644-1339 to set up a free estimate, or for more tips on how soft washing can enhance the look of the outdoor spaces with pressure washing in Corsicana for your home or business. Be sure to check out some of our projects to see the before and after shots!
The pressure washing specialists at Top Dog Pressure Washing LLC will evaluate the exterior surfaces around your home in the Corsicana area and provide you with top-quality pressure washing and soft washing services to ensure that your outdoor spaces have a top-tier freshness!